With Autumn comes spiders, cobwebs and fallen leaves. They all seem to end up in our homes some way or another. To combat this, we have put together a list of cleaning tips to keep your home fresh this Autumn!
Clean out your rain gutters
Those pesky leaves often end up clogging up roof gutters this time of year, so to prevent water from collecting on your roof and causing damage to your property this Autumn, it is sensible to clean them out.
You'll need some heavy-duty gloves, a ladder, a hose, goggles to protect your eyes, a trowel and brush, and a rubbish bag.
The simplest approach to manually cleaning your guttering is to do it following some light rain as the slightly damp leaves and debris will take less persuasion to remove from your gutter.
If you have a leaf blower, and of course a ladder to reach, this could do the majority of the work, but this technique tends to only be effective when the debris is dry.
You'll usually find that the outlets of your guttering system become the most congested with dirt and leaves, so it's best to start cleaning there. Use your trowel to remove the grime and empty it into your rubbish bag.
If the trowel isn't as effective as you had hoped, use a small but sturdy brush to remove the rest. Once your outlets are clear, move on to the rest of the guttering and then use your hose to blast away any leftover muck.
Alternatively, if this seems like a tiresome and difficult job, our team of cleaners are skilled in external cleaning and could help you get the finished result without all the hard work!
Spider-proof your space
This may sound obvious, but to keep spiders at bay, you need to make sure you remove any cobwebs you see around your house.
By regularly cleaning away cobwebs, it stops spiders inhabiting your home as easily. Using a vacuum cleaner and a duster to thoroughly clean any nooks and crannies, and wiping down your windows and furniture, will help stop them lurking in your home.
Another way to prevent spiders is by decluttering your home. The more clutter you have, the more hiding spots the eight-legged pests have. So bag up anything you don't want and recycle, rehome or put it away.
With the help of our friendly and experienced cleaning team, whether you want a one-off clean or a regular cleaning service, you won't have to worry about keeping your space spider-free as we can do it for you!
Keeping your home fresh this Autumn
As the months get colder, we inevitably want to spend more time in the comfort and warmth of our homes. Keeping your space tidy and clean helps create the right environment for relaxation and happy home-living.
Carpet Cleaning
If you want to refresh your carpets to the highest standard, it's best to hire a professional. Our trained and experienced carpet cleaners have the finest equipment to provide the results you are looking for. They can remove any stains, germs and dirt, and you will not believe the transformation!
Clean your Fridge & Freezer
With Halloween on its way and Christmas coming up soon after, you're going to need your fridge and freezer space! It's also important to keep these appliances hygienic so that you and your family will stay healthy during cold and flu season.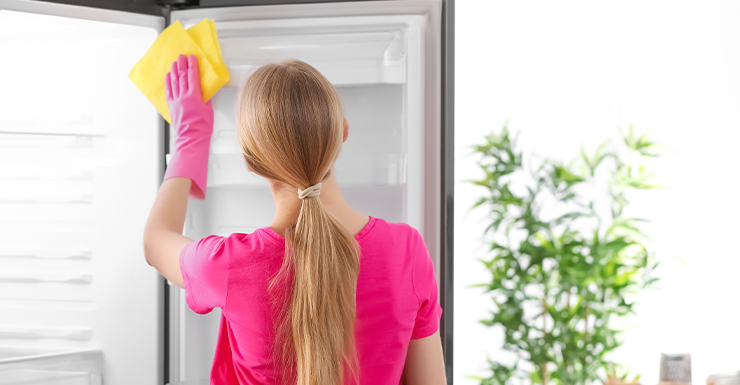 Follow these steps:
Empty the contents of your fridge-freezer and remove all shelving and drawers.
Switch off your fridge-freezer. Make sure to place a towel in your freezer to soak up any melting ice.
Use a cloth you have doused in hot, diluted disinfectant and wipe down the inside of your fridge. Once you are happy with the clean, dry with some kitchen towels.
Wash your fridge shelves and drawers thoroughly before placing them back inside your fridge.
Repeat the same steps for your freezer.
Turn the fridge-freezer back on, and place your items back inside once the temperature is appropriate.
Once more, this is a cleaning process that our team at Workbusters regularly carry out for our clients, so if you book a cleaner with us, you can rest assured that they will do a thorough job and you will love the results!
Find out how the Workbusters team can help you this Autumn by calling us on 020 7751 2345.